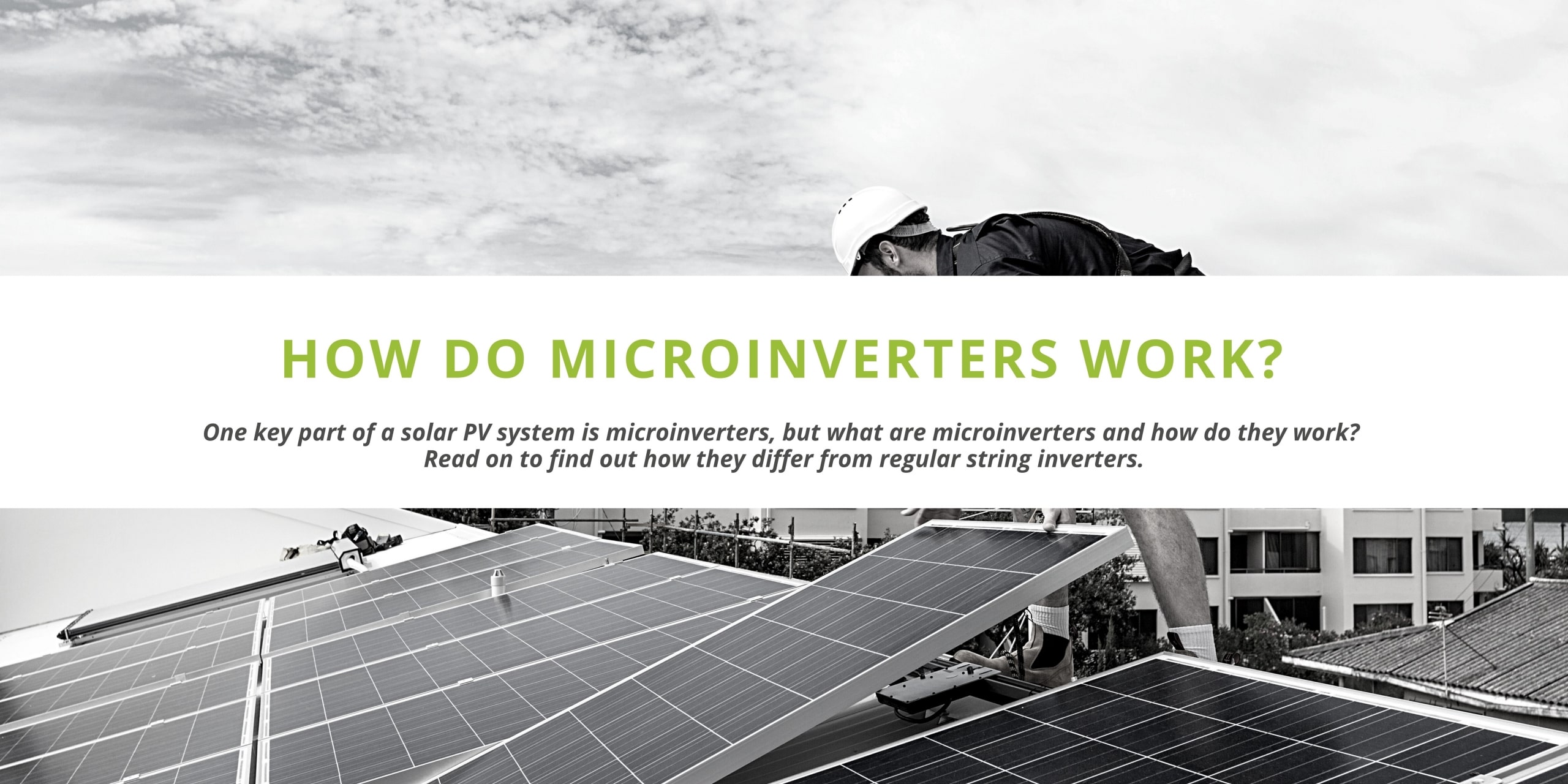 HOW DO MICROINVERTERS WORK?
One key part of a solar PV system is microinverters, but what are they and how do microinverters work? Read on to find out how they differ from regular string inverters.
Read time: 3 minutes
What is a Microinverter?
Microinverters are small devices which transform direct current (DC) produced by your solar panels into grid compatible alternative current (AC). In traditional string inverter systems, solar modules are simply wired together and fed down to a single inverter, usually a standalone box which is typically installed close to your main service panel and electricity meter. What differentiates microinverters from traditional string inverters is that they offer this conversion for individual PV modules on the roof rather than a whole array of modules. BPE's Microinverters are capable of handling up to 4 panels per microinverter with our dual port Microinverter or quad port Microinverter.
How do Microinverters Work?
Microinverters are attached to individual solar panels which essentially make each panel act as its own independent energy generation device and isn't dependant on the rest of the array. Each module in the system gets its own MPPT (Maximum Power Point Tracking), meaning individual generation is maximised no matter its condition.
BPE microinverters have MPPT integrated at each level of the module so that each individual panel can be monitored for any issues regarding production and can be quickly resolved. This is particularly beneficial on roofs with multiple orientations or shading, as the panels will have differing outputs. If a PV module is shaded in a traditional string array with multiple modules in series, each module's performance will be reduced to the worst-performing panel's level. This is not a problem with microinverter systems since each module produces power in parallel to one another. So if one module is shaded, it won't affect the output of the entire system. As a result, microinverters can produce up to 30% more power than other inverter technologies!
Your content goes here. Edit or remove this text inline or in the module Content settings. You can also style every aspect of this content in the module Design settings and even apply custom CSS to this text in the module Advanced settings.
Installation is Easy
Microinverters are also easier to design and install. A microinverter PV system can be designed and installed on the same day. A string array requires an installer to visit the site, survey the rooftop, create a design and then return to install it. However, with microinverters, the solar PV system can be easily expanded in the future. Since the DC to AC conversion occurs at the site of each module, your system does not need to be paired to the capacity of a central inverter; your solar installer can simply join more panels to your system. In addition, microinverter installation is easy – you just plug in and play.
You can read about the benefits of microinverters here. 
Microinverter Warranty
Typically microinverters have a longer lifespan than string inverters. The life expectancy of string inverters can range from 10 to 15 years whereas microinverters can last 20 to 25 years. This is due to microinverters dealing with much lower voltage quantities than string inverters. Additionally, BPE's Microinverters offer a 25-year warranty whereas string inverters only offer a 5 to 10 year warranty.
Summary 
To summarise, microinverters work by transforming the power of each module right at the source so each module can be monitored individually. Microinverters offer the ability to increase the overall efficiency of a PV system that is subject to partial shading, so are a great option if your PV system is subject to partial shading or dirt. So if you have limited roof space with several angles, shade from trees or a chimney to contend with and you are unsure if you would like to extend the size of your solar system at some point, microinverters are an excellent inverter option for you.
Want to learn more about adding solar and storage to your home? Contact us at hello@badgerpowerelectronics.com to get started.